He glorified in fiery verses deeply beloved Azerbaijan, its tricolor banner and glorious sons, he conducted social, pedagogical and educational activities, raising the people to fight the invaders. His lyrics to the country's anthem are known to every compatriot. Today, the 130th anniversary of the "poet of independence" is celebrated not only in Azerbaijan. His anniversary was celebrated in Tbilisi, Nur-Sultan, and a monument to Ahmad Javad was unveiled in the park-museum of Turkic history in Ankara. The poet's great-grandson and double namesake Javad Akhundzade shared family stories as well as personal memories of the great-grandmother Shukriya khanum.

In the center of Ahmad Javad's life epic was a story of great love for Shukriya Bejanidze... Tell us about it.
My great-grandmother came from a princely family of Ajar. The highland village of Zendidi still has a family cemetery, private family houses and fort Bejanidze. After the Balkan War, in which Ahmad Javad among the volunteers fought on the side of Turkey, he goes to Batumi. There he gets engaged in charity and journalism, and later meets Suleiman and his daughter Shukriya. A 16-year-old gymnasium student won the heart of young Javad, he asked for her hand, but was rejected by her father. Then the lovers decided to run away. So Shukriya Khanum moves from a luxurious Batumi mansion to the outback of the Elisabethpol governorate. As Javad told her, in his native village Seyfali lived ordinary people with a kind heart. They helped the Akhundzade couple in every possible way through difficult times. 20 years later, in 1936, Suleiman-bek could not stand it and came to Ganja to see his daughter and hug his grandchildren. And like that they reconciled.

How was the life of the spouses?
Shukriya and Javad had five children: sons Niyazi, Aydin, Tukay, Yilmaz and daughter Almaz. At the age of 16, their daughter died of sarcoma, which was a serious shock to the family... Ahmad Javad led an active pedagogical and educational activities during the ADR period, was listed in the Musavat party. Due to his lifestyle, the family often moved, they lived in Ganja, Baku, around Quba and Qusar.
All the poetry of my great-grandfather of those years is a passionate call for the unity of Turkic peoples. In 1918, he wrote the poem "The Black Sea was raging," and in 1919 - the lyrics to the march of Uzeyir Hajibeyli, which later became the anthem of independent Azerbaijan. With the establishment of the power of the Soviets, everything changed. His views and political allegiances could not remain overlooked by the Soviet machine of terror. In 1923, the first arrest followed, in 1925 - the second, for the poem "GoyGol", where the crescent moon and star were mentioned. Each arrest followed loss of property and housing. In March 1937, Ahmad Javad received the prize for the best translation of Shota Rustaveli's poem "The Vityaz In The Tiger Skin" in Azerbaijani. But soon he was expelled from the Writers' Union, and then arrested again - for "counter-revolutionary activity and the dissemination of ideas of pan-Turkism".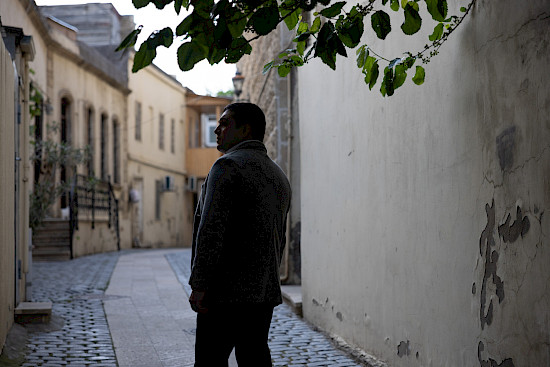 Which role did Mirjafar Bagirov play in this?
He was a family friend. He and Javad once worked together, taught in the village of Hulug, Qusar district. The great-grandmother recalled that during her second pregnancy, Mirjafar often told her that the unborn child should be called by a princely Ajar name. Then things changed. Friends turned out to be on different sides of the barricades. Bagirov proved himself in the most merciless way in relation to Ahmad Javad and Mikail Mushvig.

What is known about the last days of Ahmad Javad's life?
From the moment the great-grandfather was taken from the house, he was interrogated without respite. He was not allowed to sit down, one investigator replaced another, and at some point he could not stand it and simply attacked the next interrogator. Let's not forget that Ahmad Javad was not just a poet - he was a warrior, an absolutely fearless man. The case was fabricated in the crudest of ways. According to official documents, Ahmad Javad was shot on the night of October 12-13. But in 2011, I discovered other information in the disclosed archives: he was not shot, but died of severe torture on October 11. The search for the poet's grave has still not produced results. Several years ago, mass graves were discovered near Lokbatan. I was then invited for assistance, DNA analysis was carried out, but, unfortunately, the remains of the great-grandfather could not be found. They said that he was burned and thrown into the sea or buried on the island of Nargin. But there is no evidence.

What fate waited for Shukriya Khanum?
After the arrest of Javad, the great-grandmother was offered to divorce him, return his maiden name, pick up the children and return to homeland. But Shukria loved her husband too much. She said: "Maybe Javad will be shot, but my abdication would be worse than a bullet for him!".
While the trial of Ahmad Javad was underway, she was also arrested. Shukriya khanum was kept in a cell in water, her legs swelled, and she could not walk. A young and beautiful woman was brought to an unrecognizable state. In December 1937, she was exiled to Algeria, where she spent as much as eight years balancing life and death. In July 1945, instructions were given for the liberation of Shukriya. But she was not allowed to live in Baku, they ordered to take her for Seyfali. Her youngest son Yilmaz was raised by distant relatives.
The eldest son, Niyazi, at that time had already served at the front, was awarded for military merits. Gradually, she found her children, gathered the whole family around her. And after the rehabilitation of Ahmad Javad in 1955 she moved to Baku.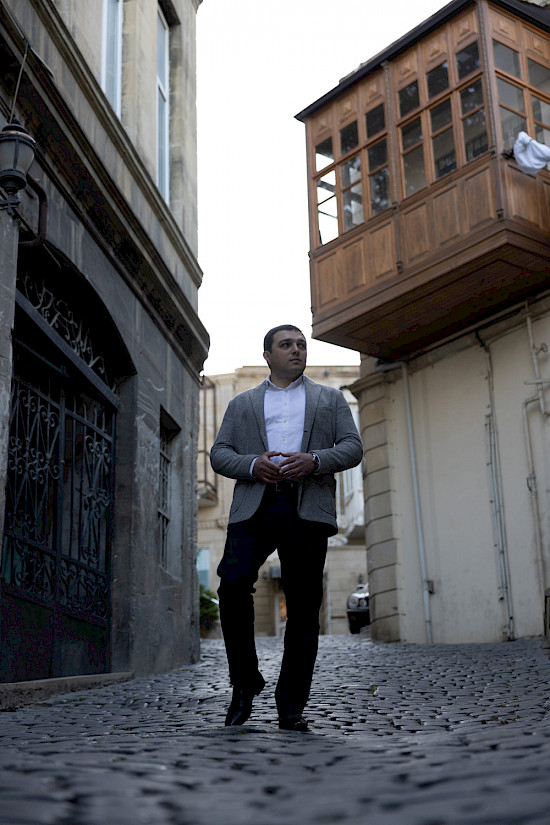 What memories of great-grandmother do you have?
The name Javad was the first gift made to me by great-grandmother Shukriya khanum. So, another Javad Akhundzade appeared in our family. My great-grandmother and I always had a special connection. For several years we lived together in an apartment near a chess school, on "Beshmartaba". Our entire house was inhabited by earlier repressed families. They were constantly coming together, talking about something of their own... In Soviet times, the name of Ahmad Javad was preferred not to mention, even after his rehabilitation. He was first mentioned in 1966: the writer and literary critic Mir Jalal Pashayev published a poem by Ahmad Javad in the almanac "Azerbaijani Literature," noting him as an outstanding Azerbaijani poet. Meeting former colleagues and friends of Javad on the street, Pashayev always asked them: "Are you visiting Ahmad Javad's wife? Be sure to visit!"- and gave her address. Really a lot of people came to visit the great-grandmother. Shukriya khanum read me the poems of great-grandfather, which he dedicated to his children, sang lullabies, sometimes sang something on Georgian. Great-grandmother loved me very much, called me "My Javad".

Shortly before Shukriya khanum's death, she gave an interview, a small excerpt of which was posted online. "I don't want it to happen again, I won't wish it anyone, not even my own the enemy", Shukriya khanum said. Did she often recall that time?
The great-grandmother never talked about her experience. And that interview was a huge stress for her. I often went to visit her in Shamkir. She took me by my arm, and we walked around the yard, had long conversations.
Once, when I was about 12 years old, I decided to ask her about Stalin. With the usual gesture, she hid her hair under the headscarf and suddenly hit the table with her hand. She said sharply: "Do not call his name!" - and she could not calm down for a long time.

What were the last moments of her life?
She outlived her two sons: Tukai and my grandfather Aydin. To her old age, she maintained clarity of mind, she had an incredible memory. She very much loved retelling the story of how she met Javad. But literally before her death, she no longer recognized anyone.

When did you realize yourself to be the great-grandson of Ahmed Javad? Do you remember this moment?
Of course, I knew from my childhood that Ahmad Javad was my great-grandfather. At home, we often talked about him, calling him Javad baba. Part of my school life came on the Soviet period, and I remember how my father reacted to my textbook on the history of Azerbaijan, did not allow me to read it. The Soviet regime did the worst thing you can imagine with my family, and my great-grandmother witnessed all this horror, so I couldn't help but feel it. But in 1992, the anthem of Azerbaijan was re-approved for the lyrics of Ahmad Javad, at that time a wave of patriotic sentiments was growing. I remember the day the head teacher of our school introduced me to the children as the great-grandson of the author of the lyrics of our anthem, they began to attract me to all events related to the work of my great-grandfather. Afterwards, while at university, I too always felt interest and respect from the faculty. There is a special love for Ahmad Javad in Turkey, and I have personally witnessed this more than once.

Does such an honorable relationship impose responsibility on you?
Of course, this kinship is a big responsibility for me. I always did my best to justify his name. With great pride and pleasure, I participate in all events associated with Ahmad Javad, I'm very grateful to their hosts. Just recently, a big event was held at the Ganja Philharmonic; soon I am going to Ankara, where a monument to my great-grandfather was dedicated. Currently, I hold the position of Deputy Director General of the Azəridmanservis under the Ministry of Youth and Sports. In 2015, I was personally awarded by President Ilham Aliyev for services in the development of sports in Azerbaijan. That's when everyone was saying, that I justified the name of my great-grandfather. I have two big dreams: to see the monument to my great-grandfather in Baku and so that his remains were nevertheless found and reburied. I hope that both wishes will come true.